DRAFT DRAFT DRAFT
LArSoft provides tools to carry out simulation, reconstruction and analysis of LArTPC data. Consider for instance, an event generation, detector simulation, reconstruction workflow as shown in the following figure: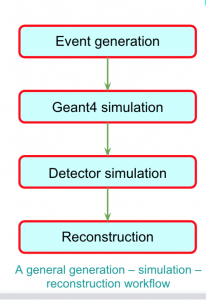 Each piece will be described in more detail.
Event Generation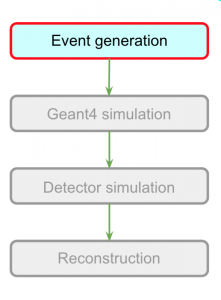 Typically run as at least three separate phases:
"Beam" simulation

Event generation

Detector simulation and response
Beam Simulation
Generates neutrino flux hitting the detector

Simulated sources can include accelerator, sun, astrophysical sources, KDAR sources, etc. (so not strictly from accelerator beams)
The beam simulation is external to LArSoft
There are multiple event generators available that  are integrated into LArSoft in different ways.
Genie: 

GENIEGen

module

Single particles:  SingleGen module

Cosmic ray generators:  CORSIKA, CRY
Geant4 simulation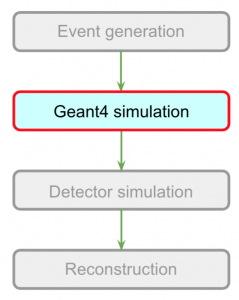 Particle propagation simulation

Models energy depositions in the detector

The only simulation currently integrated with LArSoft
Combine flux and geometry with neutrino physics usually with GENIE, which can be embedded in the offline framework.
Detector simulation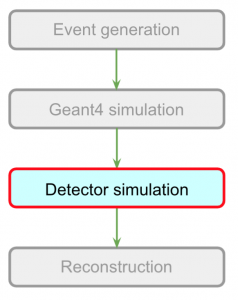 A separate workflow in itself
Bulk properties include reinteractions, decays, energy loss and transport. Particles to be dealt with range from 100 GeV to 25MeV. Emphasis is on the sub-5GeV range. Particles include all species of hadrons, charged leptons and ions.
Basic particle physics combined with specific detector geometries.
Majority are Geant4 based
Generally these simulations are embedded into the experiment's offline framework
LArSoft uses art
Reconstruction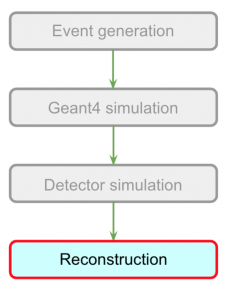 Three major paradigms, each with its own variants, modules, workflows
2D clustering and view matching

Image processing / deep learning techniques

3D imaging
For more information, please see Erica Snider's Introduction to LArSoft – source material.
For information about simulations in general, please consult Robert Hatcher's Simulation Tools in Neutrino Experiments.